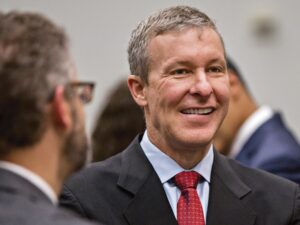 ISTANBUL – In a candid assessment of the current economic landscape, United Airlines CEO Scott Kirby declared that the United States is in a "business recession," while concurrently noting the strength of consumer demand at an aviation conference held in Istanbul.
Kirby, at the helm of the world's largest carrier, pointed to the leisure air travel sector as a beacon of resilience. It has bounced back more robustly and rapidly than its business counterpart, he observed during his address at the annual meeting of the International Air Transport Association (IATA).
"Leisure demand is really, really strong. Premium leisure demand is much higher. Business demand hasn't fully recovered yet … that's taking more time," Kirby stated. He further described the current situation as a mild recession or moderate economy, while maintaining that the consumer sector remains strong and unaffected.
U.S. economic growth has slowed more than anticipated in the first quarter, with a surge in consumer spending countered by businesses liquidating inventories in anticipation of reduced demand later this year, primarily due to increased borrowing costs.
Despite the current obstacles, global airlines are expected to more than double their profits by 2023, driven by strong travel demand. Yet, they also face significant challenges such as supply chain disruptions and a talent crunch.
Kirby stressed that airlines cannot operate in a pre-pandemic manner, citing improvements in supply chains and growth attempts by airlines worldwide. "You can't run your airline like it's 2019 … the world really has changed," he asserted.
Adding to the list of concerns, Kirby raised potential risks regarding airlines flying over Russia due to ongoing political tensions. He posed the question: "What's going to happen if an airline lands in Russia with some prominent U.S. citizens on board? That is a potential crisis in the making. I think we should solve it before the crisis happens."
The ban on U.S. airlines from flying over Russian airspace, a retaliatory measure for Washington's prohibition of Russian flights over the U.S. since March 2022, has dramatically impacted United Airlines. The carrier was forced to suspend flights over Russian airspace temporarily, drastically affecting its ability to offer competitive non-stop flights to destinations like India.
"It's clearly a big impact to us," Kirby confessed. Noting pre-pandemic schedules of multiple daily flights between the U.S. and India, he expressed his disappointment. "Now we fly one and it's an extra two hours," he added.
Conversely, airlines from India, the Gulf region, China, and Africa continue to fly over Russian airspace, thereby shortening their flying times. Newly approved Chinese airlines are, however, choosing to avoid Russian airspace for flights to and from the U.S., as reported by Reuters on June 1.
Scott Kirby also underscored the competitive advantage of carriers still traversing Russian airspace, but reiterated the associated risks. "I think it creates a safety and security risk," Kirby warned, highlighting concerns for the safety of US citizens on such flights, or the possibility of being forced to land in Russia for various reasons.
United Airlines, alongside other U.S. carriers and their lobby group, Airlines for America, are urging the Biden Administration to create a level playing field against Chinese rivals who continue to fly over Russia. Consequently, flight frequencies between China and the U.S. – the world's two largest economies – are stalled at below 10% of pre-Covid levels.
IATA Director General Willie Walsh also addressed the issue at the IATA's annual general meeting, stating that closing airspace is a "political decision". He expressed his desire for the Russia-Ukraine conflict to end and for Russia to reopen its airspace to everyone. "We want to see the aviation system return to normal," Walsh said, acknowledging that political decisions often negatively impact the aviation industry.
Looking ahead, the International Civil Aviation English Association's next in-person conference is scheduled for September 18-20, 2023, in Istanbul, hosted by the Turkish Airlines Aviation Academy. The conference will explore the opportunities and challenges that new technologies present for the development of specific-purpose learning and assessment materials, and effective delivery methods in the evolving aviation industry.